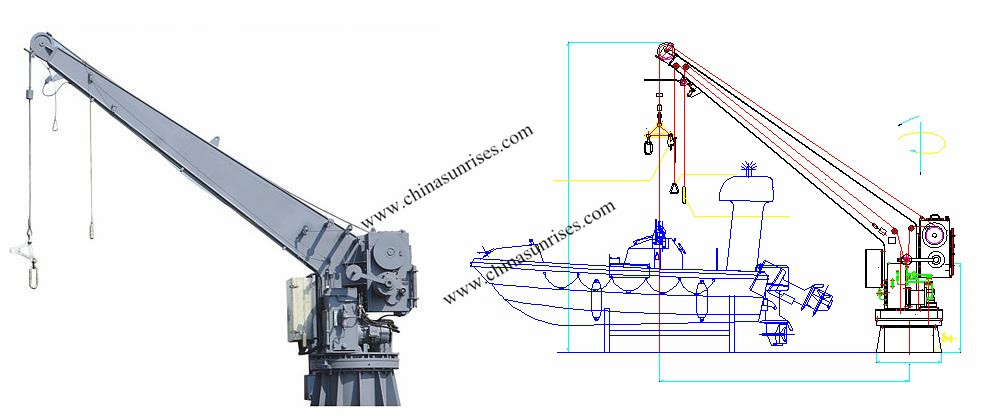 Single Arm Davit for Rescue Boat,Liferaft
The single arm davit is mainly used for lifting and lowering rescue boat, liferaft.
Rescue boat davit, slew by the hydraulic, and launch the boat to the water surface by the boat own gravity, slew the boat or raft outboard under the condition of loss of electricity, while Launching, the passengers could pull the remote control cable in the boat to launch or stop rescue boat or raft. As well, the crews can operate it on the deck. This appliance meets the SOLAS 1974, the international life saving appliance rules LSA and IMO, MSC81 (70) and other regulatory requirements.
Product Name : Single Arm Davit for Rescue Boat, Liferaft
Product No. : 1.3.4
Safe Working Load: 21KN,23KN,30KN
Certificate : Various types of Classification Society Certificates can be supplied such as : CCS、BV、RINA、NK、EC、ABS etc.
Country of Origin : CHINA
Model
 Slewing 

Load

 S.W.L

( KN) 

 Main Size
 Suitable Rescue Boat / Liferaft 

 

 

A
B
C

 

SA20/SA21/23

14/15.7

21/23

680

5000

3100

40R/25P 

Liferaft

SA30

17.5

30

800

5000

3200

618FR/35P 

Liferaft
* Please contact us for final confirmation on above data before you place order.